She Bangs
I once trimmed my bangs back when YouTube tutorials did not exist yet. I wanted to sport the same bangs like the celebrity most kids looked up to - she's no other than the legendary mother of all jologs: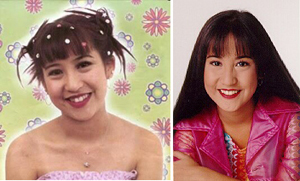 Jolina Magdangal (image from pep.ph)
And no doubt, I had the most perfect bangs ever. I was even certain I looked like a celebrity.
Only, it was this celebrity:
It was crazy. On most days I'd wear a headband in school to hide the hideous bangs. And the crazier thing is, I would still risk looking like Spock and trim my bangs whenever it gets longer. Well, after that incident, I have never had any disaster cutting my own hair. Or should I say, I never really cared how it looked. Albeit I had to deal with many disasters from hairdressers who needed to be reintroduced to a ruler. Ask for a two-inch
trim
and all of a sudden half of your hair is chopped off.
My face when I realize that the hairdresser gave me a full-length cut when I only asked for a 1-inch trim.
I have been cutting my own hair for more than two years now. Thanks to YouTube, I never have to bother going inside a salon, pay a hefty amount, and still look the same. A simple haircut can already get me Burger King's whopper. And I would rather take good food than a nice haircut. You know that. Haha. Anyway, last night, I got extremely bored that I trimmed my bangs again.
It isn't perfect but I'm thankful I do not have to suffer the misery of pinning my bangs up for months until my hair grows out. But I just hope I won't get annoyed pushing my hair back repeatedly when it attempts to murder my eyes.
I'm glad I look a bit human now.
Appa: I find your lack of taste disturbing. I am not amused. Put me down, hooman.